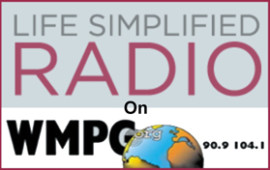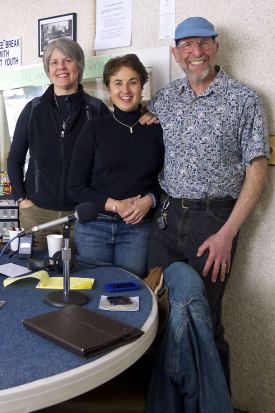 It is amazing what happens when we ask compassionate questions and then wait quietly for the answers to come. Historically, I have not been one known for my listening skills, however like learning to play music, I am developing an ear for stories, perspectives and opportunities to learn about life from those around me.
In just over five weeks, the conception and birth of Life Simplified Radio has generated some powerful narrative and dialog around enjoying life. Starting as an idea to take Life Simplified to the airwaves, this tiny seed got it's first dose of fertilizer from collaborator turned co-host, Ross Goldberg.
For nearly a year now, Ross and I would exchange ideas, angles and turns of phrase from Life Simplified eZine via email. When an opportunity arose to fill in for a talk show on our local community radio station, I knew Ross had experience (as an WMPG volunteer) and an interest the subject. My first call was to him.
Music, wellness, love of life and people–Ross and I share several, if not many, passions. When it comes to styles, roles and attention to details, we are very different and quite complimentary. Ross brings not only another perspective about the vision of what life simplified can mean, but another voice to the table. The show that evolved from our first conversations about what might be, are made all the richer with Ross as my co-pilot.
Since we had four weeks to share our message, it made sense to kick off with 
Where To Start (or Restart)
 on the path to enjoying life simplified? Our first guest was therapist, mindfulness coach, golf enthusiast and my dear friend, 
Lisa Love
. Lisa's counsel to us was the first steps are an inside job. Start with forgiving yourself for whatever shape your space is in. Lisa shared some of her personal journey and relationship with stuff.
Say Yes to Less was the focus of week two and interior designer Monica Dominak was our guest. Monica helps people conceive and design useful, aesthetic space. Monica told us about moving from a house of 2400 square feet to a home where her footprint is just about 350 square feet.
The penultimate show this past week was 
Take Action
. March is Brain Injury Awareness Month and our guest was Carole Starr founder of 
Brain Injury Voices
 a support and advocacy group for people who live with brain injury. Carole described her life before and after a car accident and her need to reorganize her priorities. Energy management and 
finding your success
 were Carole's strategies. She reminded us that happiness is always possible.
Each of these four individuals has shared their own experiences, time and talents with me and my audience in order that others might benefit from their expertise. In each of the three programs perhaps it was a phrase, a perspective, or a strategy that resonated and gave new meaning to enjoying life. For me, it was all of the above. My deepest thanks all who have helped this idea launch.
Join us if you can on Tuesday, March 17th from 1:00-1:30 pm as we close this chapter of Life Simplified Radio. Tune in to WMPG 90.9 fm or WMPG.org click the listen button on the top left.
It's a great life!